The most popular game mode in Fifa and the reason it has become one of the most popular video games in the world, Fifa Ultimate Team (or FUT) allows you to build and manage your own club.
Not only will you have to sign players but you will have to build a strong team chemistry, manage player fitness and even handle injuries in order to make the best team possible.
You can then play both offline and online matches, earning rewards to improve the quality of your club and the budget.
Getting started
When you go to the Ultimate Team tab in FIFA 20, you'll begin your FUT journey by receiving a starter pack containing enough player items to fill out your starting XI, followed by your choice of a loan player item that can only be used in a limited number of matches.
You'll be asked to pick a nationality, which will give you a team consisting of players from that nation. You will also receive at least one stadium, one ball, one club badge and two kits (home and away).
Once your squad is assembled, there will be some objectives to complete, such as changing formation or playing the team of the week. This will help you earn rewards like free packs, cards and coins to help build a squad.
Which players can I choose?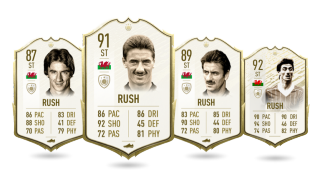 There are more than 17,000 players in Fifa 20, so pretty much any player that plays in most major leagues is available. This includes legends and icons from the past like Pele, Bobby Moore, Rivaldo and Zinedine Zidane.
All of the players have an overall rating as well as six scores for the key stats; Pace, Shooting, Passing, Dribbling, Defending, and Physical. These stats are combined with a player's international recognition to calculate the player's overall rating.
The stats are updated throughout the year, with Barcelona forward Lionel Messi currently the highest-rated player with a score of 94, followed by Juventus star Cristiano Ronaldo (93) and Paris Saint-Germain ace Neymar Jr. (92).
Creating chemistry
In FUT, creating the best possible side requires strong chemistry between your players. Essentially, this involves placing players from the same club, league, or nationality next to each other in your starting line-up.
Ensure the players are in their preferred position and there will be even more chemistry and their stats will receive a boost. This chemistry is represented on screen by coloured lines that link the players. Yellow means their link is good, while green means they will have a great understanding.
Currencies
Just like in real life, in order to sign the best players for your club, you need money. And in Fifa, this is achieved through two virtual currencies.
Fifa Coins can be earned as rewards for playing matches or selling items, while Fifa Points can be purchased by paying real money via an online store or in the form of a gift card.
You can use these currencies to purchase Fifa 20 packs which are split into rarities, from bronze packs which include players with lower overall ratings, all the way up to Mega-Packs which are filled with rare and high-rated players.
The Transfer Market
Just like in the real world of football, signing the best players is far from easy. You will be competing against other players from all around the world who are all trying to do the same thing.
The market system in Fifa 20 is hugely complex as each player's value can change dramatically depending on their real-life form. It is almost like a stock market, so knowing when to buy and when to sell is hugely important.
But it is not just players who are sold and traded in the Transfer Market, this virtual auction-based marketplace is where you can invest in club items like balls, badges and stadiums; consumables such as fitness, chemistry styles and contracts; and staff who include managers, physios and coaches.
Join us on Discord! Chat and learn with experts from a wide variety of esports right now